Thursday, January 26, 2023 / by Robyn Orgel
LAS VEGAS MARKET UPDATE for JANUARY 26, 2023
The Numbers
Active Listings: 5,688 (down from 5,834 the previous week, a steady decline since mid_November)
Under Contract: 589 (up from 507 the previous week, trending up and the highest in 5 months)
Units Sold: 295 (up from 262 the previous week)
Median Days on Market: 44 (flat from 44 the previous week)
Average Price: $513,033 (down from $528,575 the previous week)
Median Price: $424,843 (down from $430,000 the previous week)
Data from Jan 25, 2023 for Single Family Homes for Las Vegas, North Las Vegas, Henderson combined.
Las Vegas Area Market Insights
Next month's outlook
January typically is the time when more buyers who are financing start conversations with lenders. This is staying on trend with mortgage applications continuing to rise.


https://www.mortgagenewsdaily.com/news/01182023-mortgage-application-volume



Shortly after Superbowl weekend is when our market sees the biggest gains in demand. We'll keep an eye on this to see if the trend stays true in 2023.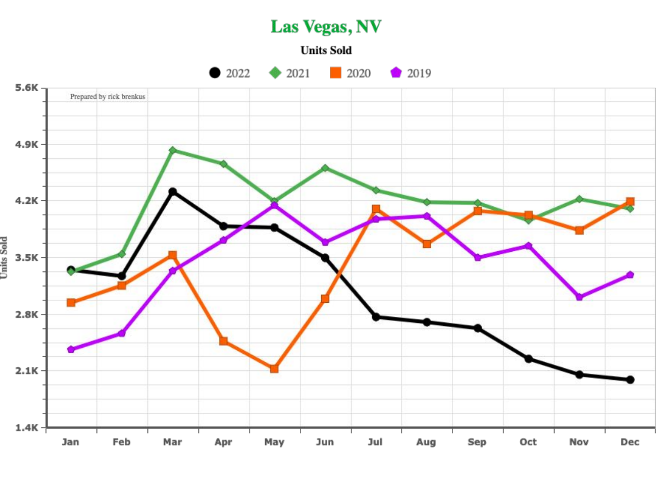 Market volatility vs Interest rate volatility

There is no denying that the increase in borrowing costs have created a decrease in buyer demand in our valley and most of the nation.

Our market has seen shifts that are moving with the interest rate changes (slow downs when the rates increase, and more showings and demand when there are dips).
Currently, rates are at 4 month lows and are bringing those who need to move (for love or money, and also in our market those who are retiring) to start shopping around for homes again. Our listings are getting higher traffic, and our latest one received multiple offers over the weekend and is now under contract.
Resale home inventory is declining in our valley
This could be due to the high number of listing agreements expiring at the end of 2022. This is another data point we will keep an eye on.
The Buyer's Advantage
New home unit sales are dropping. This has been an advantage for those who need to make a move because of the deep incentive some builders are offering.

We learn what is important to you and come up with a custom strategy with you on how to work out the best deals for you.


Are you looking to sell or buy in the Las Vegas area soon? Learn more about our market and how are team can help you achieve your goals.
The Akerley Schussler Real Estate Group
Keller Williams Realty, The Marketplace
NVLic# S.0170022

Office: 725-222-9320
Email: team@asgvegas.com